Calm The Heart, Soothe The Spirit, Revitalize The Body In A World Of Exclusive Privacy
Oxygen Facial
The Oxygen Facial is the ideal therapy for your skin. The skin is oxygenated which thoroughly cleans pores; increase blood circulation, and lightens hyper pigmentation. The Oxygen facial gives you amazing skin, illuminated with a warm, healthy glow.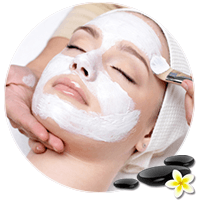 European Deep Cleansing Facial
This is an excellent treatment that aims to improve the appearance and condition of the skin.This is a totally relaxing experience for you, it consist of cleansing, toning, exfoliating, a facial massage, and mask to suit the skin type. From the facial massage you will benefit an increase in oxygen and nutrients to the skin and muscles, relieve of tension and fatigue improves texture of the skin and definitely total relaxation.
Collagen Facial
An energized collagen mask is applied for 20 minutes for an intensive moisturizing treatment to fight against premature aging, wrinkles and slackening of the skin. Relax while the power of the collagen molecules seeps into the pores and see the appearance of fine lines and wrinkles disappear and the beautiful, healthy glow emerges.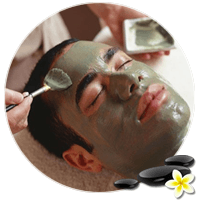 Gentlemen's Fitness Facial
This customized facial provides deep pore cleansing and toning to restore fitness and vitality to a man's complexion. Now is the time for you to get rid of that dull look. Begin with a relaxing exfoliation, cleanse and tone, next an enzyme treatment steamed into your skin to help remove impurities and definitely revitalize your skin tone. A cooling mask is applied and massaged into the skin for best results. Finish your treatment with an oil-free moisturizer that hydrates and protect without clogging your pores.
Please Complete The Following Form: