Calm The Heart, Soothe The Spirit, Revitalize The Body In A World Of Exclusive Privacy
Deep Tissue Massage
This is an invigorating massage, therapist will use applied pressure to trigger points along your body to break up lactic acid and build up and muscle tension.
Note: Please discuss pressure depth with your therapist for maximum comfort.
Swedish /Remedial Massage
This is an invigorating massage utilizing a combination of movements including long strokes, pressing and kneading with light to medium pressure.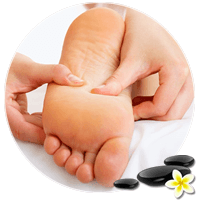 Reflexology
This is a completely safe form of therapy. It works on the principle that there are reflex areas of the feet, which correspond to all of the glands, organs and parts of the body.
This is done by applying pressure using the thumbs and fingers to the reflex points of the body in the foot in order to re-establish energy flow while promoting relaxation and stress relief.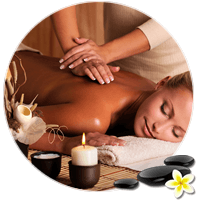 Aromatherapy
This is an ancient art in which massage is used in aromatherapy both to assist the passage of essential oils into the body and to accentuate their therapeutic effects. Alone massage can relax muscles, enabling the blood and lymph to flow more freely, and soothe the mind. When these benefits are combined with the healing powers of essential oils the results can be outstanding.
Sports Massage
This is a natural therapy; in its much form it has existed for many thousands of years. This may be an invigorating massage alternating both gentle and powerful pressure to bring instant relief to tense muscles and sore joints and enhance deep relaxation. It is advisable for a sportsman to have a massage follow the hardest of training sessions, then followed by one or two days of lighter training. This can improve condition of muscles and help prevent injury.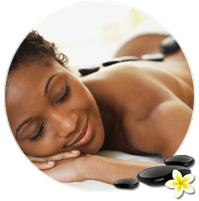 Mango or Ginger & Lemon Grass Hot Stone Massage
This is a purely safe form of therapy, which not only promotes deep relaxation, but also stimulates the circulatory system and promotes self- healing. Warm tendons will loosen faster and stretch further, your muscles will also relax and soften.
With the warm stones and the technique of the massage you will benefit improvement of the metabolic rate and detoxification of the body. This is an excellent treatment and has many benefits not only physically but mentally too.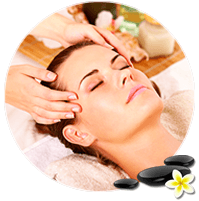 Indian Head Massage
This is a purely safe form of therapy, which not only promotes hair growth but also provides stress relief, aiding the reduction of aches and pains. The head, neck, and shoulders are liable to hold tension, usually caused by stress. This can lead to feelings of stiffness in the neck and shoulders, or eyestrain, and on occasion hair loss. With the firmness of the massage your will benefit from stress relief with the un-knotting of muscles, with the effects working not only physically but mentally too.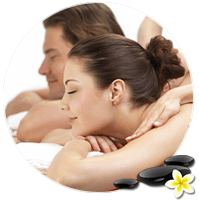 Couples Massage
Double the pleasure and increase your enjoyment when you and your companion enjoy the Swedish massage in the same room.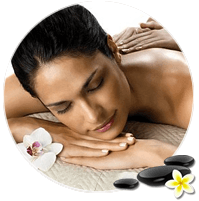 Nevis Therapeutic Massage – (Signature Massage)
Drift away with Ginger and Lemon Grass oil as we massage your calves, thighs and back muscles then we bring you back slowly with Eucalyptus oil as we massage your feet, legs, thighs, arms, neck and shoulder. We finish with a coconut oil head massage. Excellent for aches and pains. 60 minutes or 90 minutes
Please Complete The Following Form: